We are excited to introduce the new Winspire
jingle: "Risk Free Auction Items"!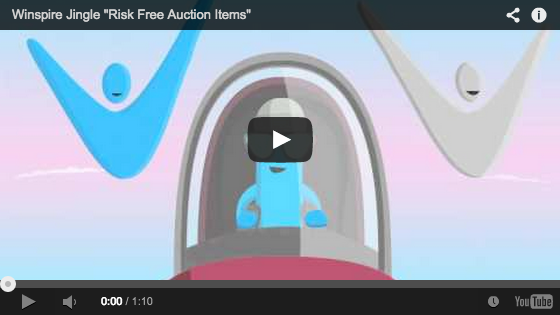 This little ditty was a "for-fun" project put together with the help of our Operations team (great harmonizing Denise!). WARNING: Once you hear this song once you won't be able to get it out of your head. We have to admit, it's pretty catchy. We hope you enjoy!
Winspire Jingle Lyrics
What do I do?
What do I do?
I've got an auction comin' up
And I don't know where I'm gonna get the stuff!

Event is only weeks away
And all I've got is one spa day
I'm wishing for some items that'll help me out
And make my donors get up and shout!

Risk Free Auction Items
Risk Free Auction Items
The best way to boost your revenue
Is to offer your donors something cool to do

Risk Free Auction Items
Risk Free Auction Items
Help your donors make a difference
Offer them a cool Experience

If your wondering what to do
'cause the items you've got are lame or too few,
or when it's time for item round-up,
those tickets you thought were there have dried up.

Don't fret, there's still a way,
To excite your audience and save the day …with
Risk free items you can rest assured
Knowing all the things you need have been procured.
...That's a wrap!
Use Winspire Experiences
in your next charity auction!
Browse over 200 unique Experiences and add your favorites to mySuitcase, where you can compare, collaborate and then reserve for your fundraiser.