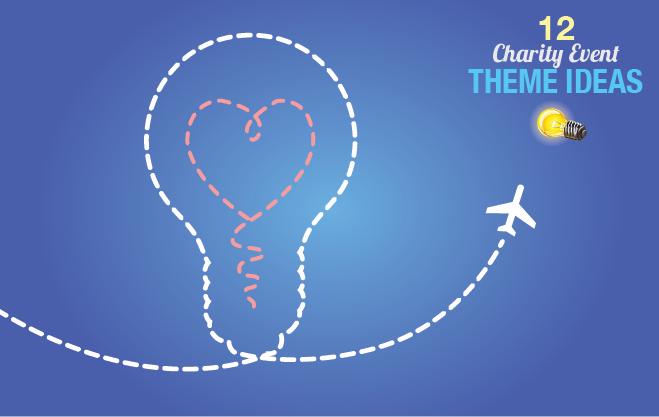 In this four-part series we are exploring 12 of the most popular charity event theme ideas and offering recommendations for food, entertainment, decorations and attire. We're also taking this opportunity to show how easy it is to match up a variety of Winspire Experiences with almost any theme you can think of.
So far, the themes we've covered include...
Charity Event Theme Ideas
Click on any of the themes below to jump to that article.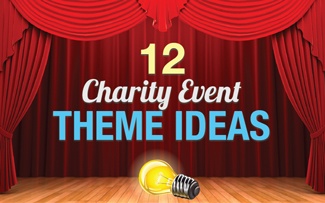 Part 1
Part 2
Part 3
Part 4
Here are three more popular and innovative event fundraising theme ideas that pair well with our Winspire travel packages:
7. Under the Sea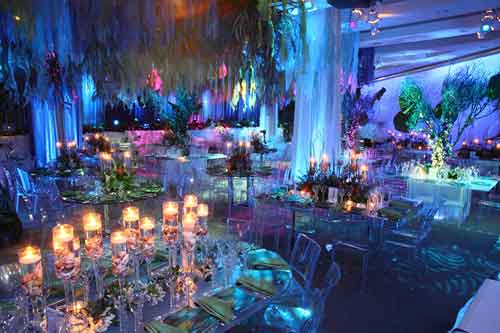 First, consider hosting your event at an aquarium or other marine venue to offer your guests a firsthand look at some of the sea's most colorful inhabitants.
If that isn't available, you can transform almost any space by using a palette of deep blues, purples and sea greens to form a backdrop.
Lighting is your friend! Use a technique called uplighting with blue and turquoise colored spotlights pointed at the walls and ceiling to make it seem like the entire venue is under water. Use strategically placed spotlights to inject vibrant colors like pink, orange and bright green in areas where you want the audience's attention. This will also help make the under sea theme feel alive!
One inexpensive option is to get an assortment of colored and semi-transparent fabric swatches (think pantyhose) and hang it from the ceiling to connote sea anemones or jellyfish (see picture). Then build colorful centerpieces for the tables as if they were clusters of coral reefs spread throughout the sea floor. Seashells, dried sea stars, and fishermen's nets on the walls and ceilings also go a long way to help set the mood.
Word of advice: Avoid sand. It may sounds like a great way to add to the theme, but it get's into everything and is virtually impossible to clean up completely. Both your guests and your clean up crew will thank you.
Seafood is the obvious choice for the evening's menu; consider offering a variety of interesting dishes rather than a single entree. Sushi is a great option, with plenty to offer guests in the way of finger food. Make sure you offer some alternatives, however, because not everyone is a fan of seafood. Also make sure any dishes that incorporate shellfish are clearly marked for those who have allergies.
If you are looking for just the right auction items to complement your Under the Sea theme, try these: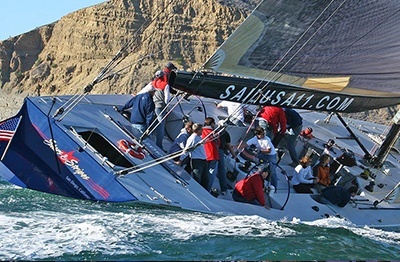 Sailing Experience on America's Cup Yacht, Estancia La Jolla 3-Night Stay in San Diego with Airfare for 2
Why this is a good match: Your party of two will enjoy a hands-on 3-hour sail on the famous America's Cup yacht "Stars & Stripes USA 11". With masts as high as an 11-story building, these precision-tuned racing yachts are the fastest mono-hull sailing vessels in the world. Take in this magnificent 80-foot high-tech racing machine as you cruise effortlessly through the sheltered waters of beautiful San Diego Bay.
Ocean View Stateroom 4-Night or 5-Night Bahamas or Caribbean Cruise for 2
Why this is a good match: Bon voyage! Enjoy a balcony stateroom for two for a 4-5 night cruise to Bermuda, Bahamas or the Caribbean. Your days at sea can be packed with activities from morning 'til night. Go rock climbing, ice skating and try the Flowrider surf simulator. Play mini golf, try yoga and take a gourmet cooking class – or just soak up the sun.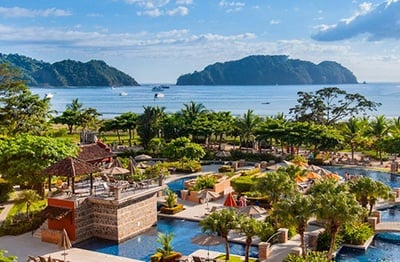 5-Night Stay at Los Suenos Marriott (Playa Herradura) or JW Marriott Guanacaste (Tamarindo) with Airfare for 2
Why this is a good match: Costa Rica, which translates literally as "Rich Coast" attracts more than one million visitors eager to catch a wave, bathe under a waterfall, spot a sloth or otherwise enjoy paradise. This tiny Central American country embodies the perfect appreciation of life's simple delights. Visit Costa Rica and experience a vacation like no other!
---
---
8. Viva Las Vegas
Lady Luck will be shining on your guests when you choose a Las Vegas theme for your next fundraising event. Whether you turn your event into a Casino Night or go with a general Vegas-style theme, this concept lends itself to fun and festive décor, entertainment and activities.
Black and red are popular colors and it's easy to find all kinds of Vegas-theme decorations at party stores. You can rent larger nightclub decorations and furniture to create a lounge atmosphere and even hire a company to run gaming tables, like poker, roulette and blackjack.
Entertainment can be as simple as playing Frank Sinatra and Dean Martin music or hire a magician or Elvis impersonator. Get your guests in the mood to spend money on your auction items by creating a high energy, fun atmosphere.
When it's time to start bidding, offer Vegas-themed trips and experiences such as:
Choice of Private Poker Lesson, Helicopter Night Flight or VIP Show Tickets, 3-Night Stay in a 4-Star Hotel on the Las Vegas Strip with Airfare for 2
Why this is a good match: Learn when to hold 'em and when to fold 'em from a pro... Climb aboard a luxurious 6-seat ECO-Star helicopter and fly over the Las Vegas Strip's bright lights and action... Or enjoy two VIP seats to your choice of a top Las Vegas show. How your donors experience Vegas in a totally new and unforgettable way, is up to them!
Center Balcony Tickets to the First Weekend of the upcoming National Finals Rodeo, Renaissance Las Vegas 3-Night Stay with Airfare for 2
Why this is a good match: Every December, the rodeo's brightest stars meet in Las Vegas for 10 days of ropin', ridin', buckin', racin' and wrestlin'. Enjoy a three night stay and two center balcony tickets to the first weekend of the Wrangler National Finals Rodeo, the richest, most prestigious rodeo in the world.
Drive Your Dream Car on a Racetrack, Renaissance Las Vegas 3-Night Weekend Stay with Airfare for 2
Why this is a good match: Slip behind the wheel of the car of your dreams and experience the thrill of driving on a real racetrack. Ferrari 458 Italia. Lamborghini Huracan. Porsche 911 GT3. The choice is yours. Experience the impressive 1.5 mile Formula-One-inspired racetrack comparable to top circuits in the world with 12 sweeping turns, 15 degree banked turns, 60 feet of total elevation change and a half mile straightaway.
---
---
9. Hawaii/Caribbean
What says Aloha better than colorful leis and little umbrellas in fruity cocktails? It's easy to be creative with props and centerpieces using seashells, flowers, fruit and beachy items like sand buckets and flip flops. Try to find a supplier for fake palm trees and tropical plants and place them everywhere - there should be lots of greens and yellows with injections of bright and vibrant colors like blue and pink to make it feel festive.
As mentioned before with the Under the Sea theme, avoid sand! It's just not worth the clean up.
A buffet bursting with fresh seafood and tropical fruit is a great way to serve up a Hawaiian- themed dinner. You can also consider doing a pig roast, which takes some planning, but can really add to the authenticity of the theme.
Consider relaxing the dress code and encourage guests to go "island casual". There's just something about wearing a Hawaiian shirt that puts people in a good mood! Entertainment should include a hula dance – and maybe even traditional Polynesian fire dancers!
Your island-getaway event is the perfect time to offer these auction items: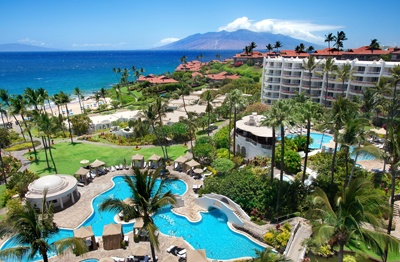 4-Night Getaway at Westin Maui Resort, Westin Ka'anapali (Maui) or Westin Princeville (Kauai) Ocean Resort with Airfare for 2
Why this is a good match: Now that you've gotten your guests lounging "island style" in flop flops and their favorite Hawiian shirt, offer them the opportunity to do the real thing! Let them the choose which of these two Hawiian islands they want as their destination so they can experience the true essence of what it means to be on vacation. They can choose to stay at just one or all of these three incredible island hotels.
5-Night Stay at Hyatt Ziva or Hyatt Zilara Rose Hall Resort in Montego Bay with Airfare for 2
Why this is a good match: Nothing says "I'm vacationing in the tropics" like an all-inclusive resort where all your food, alcohol and activities are included. Explore the resort's private white sand beach and sprawling grounds. In the evening, enjoy live music, performances and shows. From gourmet cuisine to thrilling sports on land and sea, from attentive Beach Butlers and Rum Sommeliers to 24-hour room service and complimentary spa access, guests will enjoy this indulgent escape.
4-Night Stay at Fairmont Mayakoba, Riviera Maya Mexico with Airfare for 2 (1373-2)
Why this is a good match: Located in Mexico on the Yucatan Peninsula, The Fairmont Mayakoba is situated in the heart of the Riviera Maya, approximately 42 miles south of Cancun and near the town of Playa del Carmen, on the Tulum corridor in Quintana Roo. This rapidly growing tourist destination is renowned for its pristine beaches, lush forest, Mayan ruins and premier diving and snorkeling. In addition to Fairmont's resort property, the Mayakoba resort development will also house five additional hotel sites, two golf courses and residential properties.
Part 1 | Part 2 | Part 3 | Part 4
We would love your feedback! Leave us a comment with a charity event theme that has worked well for your organization in the past. Check back next week for three more fundraising theme ideas with package recommendations for each!
Broadway
Western

...Mystery??
---