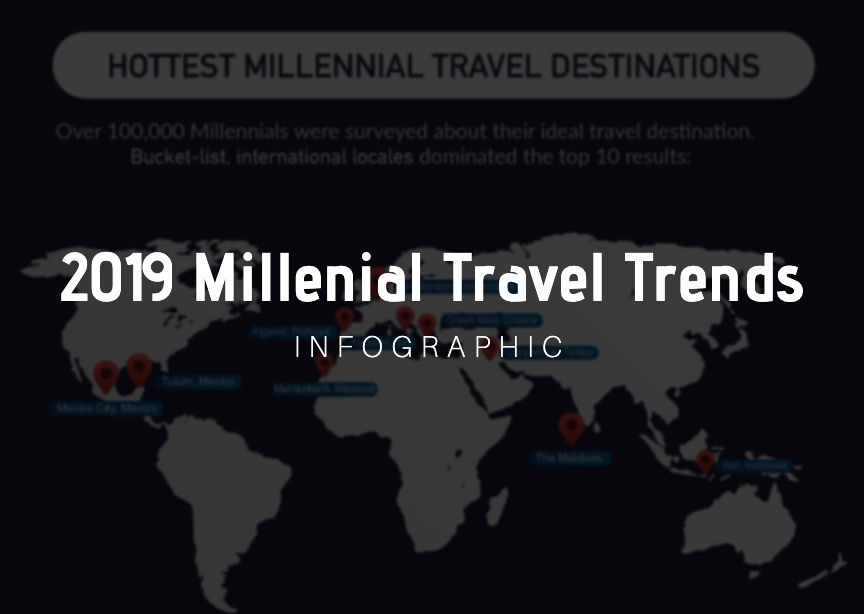 Did you know there are 9.5 million Millennial households in the United States? Typically defined as the generation born between the early 1980s to mid 1990s, the average Millennial is planning to take 3 trips over the next year.
In this post, see the latest must-read stats on Millennial travel trends in 2019, including how many plan to increase travel spending compared to last year, and which 10 destinations top Millennial donors' bucket lists. (They're all international!)
Then, learn practical tips to tap into the travel budgets of this growing sector of socially conscious donors.

Millennials Seeking
Family Travel
Millennials range in age from 23 to 38, meaning many are becoming parents. In fact, half (50%) of millennial families are currently planning an upcoming family getaway.
If you have parents (or grandparents!) in your audience, try offering these family-friendly travel packages as silent auction items in your church fundraiser, highlights of the gala live auction, or grand prizes in a school raffle.
Disneyland Two-Day Admission, $200 Disney Gift Card, 2-Night Stay for 4
Bus Tour, Lunch with an Astronaut, 2-Day Visitor Complex Admission, 3-Night Stay with Airfare for 2
Private Meet and Greet with Cast Members for a Pre-Show Dinner, Broadway Tickets for 4
2019 VIP Premiere Indoor Viewing Location with Breakfast for 2
International Travel

on the Horizon

While 79% of Millennial travel is domestic, one in three Millennials are planning to take an international trip in the next 24 months. And when asked about their ideal travel destination, bucket-list international locales swept the board.

Check out these brand-new Winspire Luxury Properties and Experience in 4 of the top 10 regions millennials said they most want to visit. Then schedule a call with your Fundraising Specialist to reserve these in your fundraiser in minutes, with no upfront cost or risk.
Covo Dei Saraceni
Positano, Italy
Retail rate: $1,024/nightOur rate: $590/night
The College Hotel
Amsterdam, The Netherlands
Retail rate: $505/nightOur rate: $200/night
Kenzi Menara Palace
Marrakech, Morocco
Retail rate: $148/nightOur rate: $130/night
Around the World
5-Night Stay at Fairmonts in China, Japan, South Africa, Thailand, Bali, Australia, Dubai, Singapore, Barcelona, Peru, Zurich or India with $500 Gift Card for 2
Finally, we recently investigated travel trends among Baby Boomers in 2019. If you missed it, click here to check out the infographic and travel recommendations.