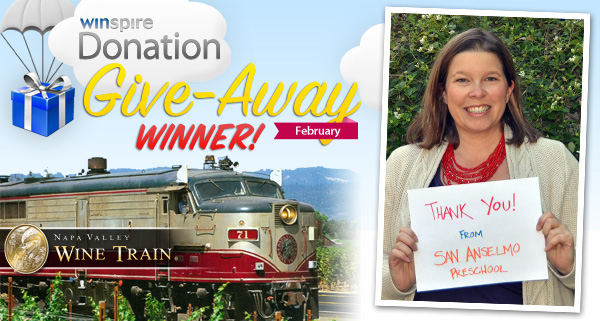 Winspire is thrilled to announce the winner of the February 2012 Donation Give-Away! Emily Leonard will be donating the Napa Valley Wine Train Package to the The San Anselmo Preschool Center.
The San Anselmo Preschool Center offers a program that blends teacher directed activities and self-initiated learning in a setting that includes art, music, dramatic play, pre-reading manipulatives, large motor activities, and "hands on" natural science. Children work together in mixed-aged groupings except for a 45 minute "group time" each morning and afternoon. At "group time" children are divided by age with one teacher for activities appropriate to their age and development.
The San Anselmo Preschool Center Spring Fun'raiser Raffle on April 21, 2012 raises funds to help keep their tuition low, but also fund ongoing training for staff development, maintain their facilities, provide financial aid, and continually improve the quality of the program.
"Adding this amazing trip from Winspire to our list of raffle prizes will hopefully help us to surpass our goal. Thank you Winspire!"
- Emily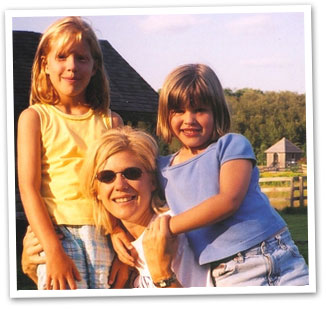 The Preschool operates on the premise that they are in a partnership with the parents of the children they serve. Each teacher in their program does written observations of children on a regular basis, and insights from the observations are shared at the parent-teacher conferences. In addition, the observations provide valuable feedback for the staff to look at child-to-child interactions and child-to-adult interactions.
Their philosophy respects the autonomy of the child in conflict as well as learning situations. Teachers are alert, and ready to protect, counsel and guide at the right moment. They believe that children can learn to work out problems and conflicts when given the opportunity.
Winspire would like to congratulate both Emily and The San Anselmo Preschool Center for winning the February Donation Give-Away, and wish them the best in 2012.
---

Ian Lauth has been working to help Nonprofits maximize their fundraising revenue since early 2012 when he was hired by Winspire to develop external communications, brand expansion and product delivery processes. You can also find Ian on Google+.