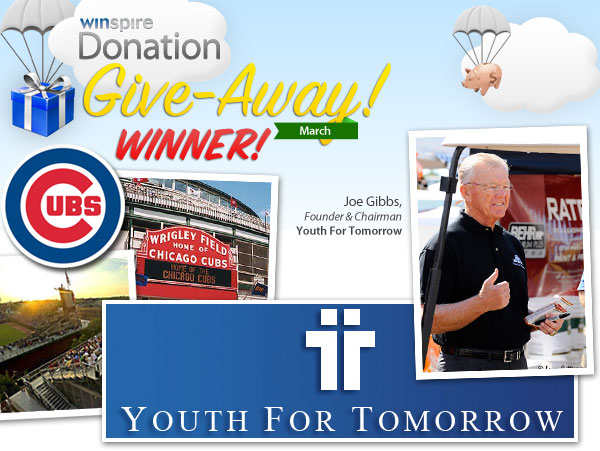 Winspire is excited to announce the winner of the March 2012 Donation Give-Away! Love D. Jones of Bristow, VA will be using the Wrigley Field Rooftop Bleachers and Dining Experience with 3-Night Fairmont Stay for two package to help raise money for the organization Youth For Tomorrow, where she works as the Director of Special Events.
Youth For Tomorrow is committed to providing a safe, healthy, and compassionate environment for at-risk youth who have been abandoned, abused, or otherwise alienated from family and community. Their mission is to provide these kids the opportunity and motivation to focus their lives and develop the confidence, skills, intellectual ability, spiritual insight and moral integrity to become responsible and productive members of society.
The package will be placed in the live auction for the upcoming Burgundy & Gold Banquet on May 16th at the Ritz Carlton in Tysons Corner, VA.
"We have used the services at Winspire for the last 3 years and have purchased well over 40 trips. The exciting vacation packages and experiences have added much excitement and spirited bidding to our Live Auctions at our events!! Kevin and the staff at Winspire are amazing to work with. Each and every "winner" of these packages have reported their travel and accommodations and the total vacation experience exceeded their expectations and the concierge services at Winspire were spectacular!! Thank you so very much for making my job that much easier!"
- Love D. Jones
Troubled by what he learned while working with at-risk adolescents in the Washington, DC area on his first tour as Washington Redskins Head Coach, Joe Gibbs envisioned a program to help these young boys and girls. His vision was for a program that would combine character rehabilitation, quality education, and personal faith and life skills in a "New Life Center". With the help from local business leaders and friends, Youth For Tomorrow opened its doors in 1986.
From 1986 to 2003 the program served only boys living in the original campus home, The William A. Hazel House. The boys attended classes in a trailer. Through an aggressive Capital Campaign, a new school building was opened in 2003, The Joe Gibbs Center for Academic and Physical Education. A generous donation from Bob Wiser, and his wish for YFT to serve at-risk girls, five girls' homes were built and the girls' program was launched. The secondary school is fully accredited by the State of Virginia. Since 1986, more than 1,000 children and their families have been benefitted from the program services offered at YFT.
Gibbs remains totally committed and remains actively involved serving as Chairman of the Board and attending YFT Fundraising events.
Winspire is proud to partner with such a wonderful organization. We would like to congratulate both Love and Youth For Tomorrow for winning the March Donation Give-Away, and wish them the best in 2012.