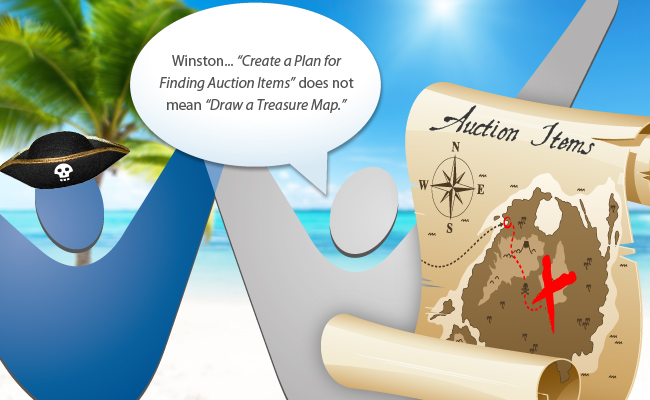 Finding charity auction items that will bring in substantial sums of money for a charity event can be a challenging endeavor. Many event organizers simply cross their fingers and hope their legion of supporters will donate a decent assortment of products and services while they spend most of their time looking for one or two big-ticket auction items. By the time the event rolls around, they are often left with excessive amounts of uninteresting random knick-knacks and not enough charity auction items that their donors will want to bid on.
We often get charity organizers who, after asking for donations all year long, worry donors will show up to their big annual fundraising gala or auction without the intention to spend big money. This is commonly referred to as donor fatigue, and can happen when the same repetitive auction items are offered year after year. This can be remedied by working on the quality and variety of your items. Keep in mind when it comes to the auction and raffle, you are offering donors the opportunity to walk away with something. You shouldn't feel guilty about putting desirable items in front of them to buy.
It's important to remember that auctions should be viewed as a shopping experience. Every donor has money set aside each year for giving. These same donors have money budgeted for vacations and entertainment. Try envisioning your auction or raffle as an opportunity to tap into these budgets. Wouldn't it be great if your donor purchased their vacation at your auction instead of calling their travel agent or going to Travelocity? Focus on creating a fun atmosphere with charity items your donors can't walk away from!
Winpsire provides once-in-a-lifetime Experiences that can be used as charity auction packages and help you do just that. Your organization doesn't pay for anything until a Winspire Experience is sold at or over the cost of the package, so there is no risk for you and your Nonprofit to include it in the event. Not only will you keep all money that is generated over the reduced price of a Winspire package, but these incredible Experiences will also generate an invaluable level of excitement around the event.
Instead of wasting time sitting around and hoping for the best, use an inspired auction item Experience from Winspire to generate some buzz leading up to your next event. Since all of our auction packages are risk-free, you've really got nothing to lose.
---

Ian Lauth has been working to help Nonprofits maximize their fundraising revenue since early 2012 when he was hired by Winspire to develop external communications, brand expansion and product delivery processes. You can also find Ian on Google+.