Nonprofits often turn to events to mix up their fundraising activities, engage supporters, and spread awareness of their mission. Auctions are among the most popular fundraising events because in addition to these benefits, they have the potential to bring in significant revenue for your organization.
That is, if your auction is planned and executed strategically. In this guide, we'll walk through 10 steps to organize a successful auction fundraising event for your nonprofit, including how to:
If you have questions about any stage of this process, know that you can always reach out to experts like the Event Fundraising Specialists at Winspire. Our team is here for you every step of the way, from helping you understand the advantages of different auction formats to providing you with high-quality items to sell at your event. Let's get started!

1. Decide What Type of Auction to Host
One of the main advantages of auctions among nonprofit fundraising events is their flexibility. However, that also means you have several key decisions to make up front.
First, you'll need to choose whether to host a live auction or a silent auction. Here are a few key differences between the two formats:

Live auctions

are fast-paced events where attendees bid on one item at a time. An auctioneer leads the bidding process, and participants compete directly with each other as they place bids in real time. To ensure the event remains a reasonable length, live auctions typically feature just 12-15

high-value items.
Silent auctions

allow participants to take the event at their own pace as they enter their bids on print or digital

bid sheets. They can feature as many prizes as your organization can procure—often 100 or more—which vary in value to appeal to every supporter's budget. Participants can bid on multiple items at the same time, and all winning bids are locked in when the auction closes.
Additionally, you'll need to choose whether to hold your auction in person, virtually, or in a hybrid format. In-person events allow you to connect with supporters face to face, while virtual auctions are budget-friendly and widely accessible. Hybrid events are the best of both worlds, but they require additional coordination to engage participants both online and offline.
2. Set Fundraising Goals
Every successful fundraiser starts with clear goals, and the best goals follow the SMART method, meaning that they are:

Specific about what you hope to achieve.
Measurable so you can know whether you've reached your goal.
Attainable to ensure the goal is within reach for your team.
Relevant to your organization's mission and priorities.
Time-based, meaning they have a clear and realistic deadline.
An example of an auction fundraiser goal that follows the SMART method might be "to register 50 first-time participants and raise at least $20,000 for our cause by the end of our silent auction."
This goal is specific about what the nonprofit wants to accomplish—acquiring new supporters and bringing in revenue for their cause—which are presumably in line with their priorities. There are numeric measurements attached to both aspects of the goal, and the deadline to hit those metrics is the end of the event.
To determine whether their goal is attainable, the organization can review data from their past fundraisers. If they acquired 40 supporters and raised $18,000 at last year's silent auction, they might decide that 50 new participants and $20,000 are just enough to push their team but not so high that the goal is impossible to achieve.
3. Assemble Your Charity Auction Planning Team
Auctions are an all-hands-on-deck effort for your nonprofit. While it's best to appoint one event coordinator to lead the auction's planning and execution, you'll also need to involve various staff members from the following teams:
Fundraising:

help organize the event details and

procure items.
Marketing: design promotional materials and reach out to potential participants.
Finance: create an event budget and record all donations associated with the auction.
Additionally, volunteers will be essential to your auction's success. Recruit volunteers to assist with item procurement before the auction and tasks like setup and check-in on the day of the event. If you're hosting a live auction, a volunteer can also serve as your auctioneer.
4. Confirm Your Fundraiser's Logistics
The earlier you can get your auction on your supporters' calendars, the better. In addition to finalizing the date and time of your event, make sure that you have a venue reserved for an in-person auction or that your fundraising software is ready to go for a virtual event. Then, you can plan the order of activities at your event and delegate staff responsibilities.
Auctions make great annual fundraisers, and if you go that route, your logistical planning will get easier every year. Not only will you figure out what software works best for your nonprofit or which potential venue is your favorite, but loyal supporters will also know to keep the last Friday night in April or the second Saturday of November free so they can participate in your event.
Auctions also pair well with a variety of other fundraising events, which can help you boost your fundraising revenue. For example, you could host a live auction to engage attendees at a gala or set up silent auction tables for golf tournament participants to browse after they play. If you go this route, make sure to take the logistics of both events into account as you plan.
5. Develop a Corporate Sponsorship Strategy
Corporate sponsors can be a lifesaver when it comes to running an auction on a nonprofit's limited budget. Some companies will provide direct financial support, while others might choose to contribute free or discounted auction items instead.
To make the most of your sponsorships, consider what businesses your organization may have existing connections with and what companies share similar values to yours. Then, approach each potential sponsor with a mutually beneficial proposal: in exchange for their contributions, your nonprofit will promote the business in your auction marketing materials and on your event signage.
Assign someone to be the main point of contact between your nonprofit and each sponsor. This person will maintain consistent communication from the approach to the post-event follow-up, increasing the chances that the sponsorship will develop into a lasting partnership.

6. Procure Auction Items
The most involved part of planning an auction fundraiser is the item procurement stage. For live auctions, the main challenge is finding the highest-value items at the lowest possible cost; for silent auctions, it's securing a broad range of items while ensuring each one is creative enough to catch participants' attention. Plus, in both cases, you need to appeal to your supporters' interests to encourage them to bid.
Some popular types of items to consider selling at your nonprofit's auction include:
Gift baskets

.

Baskets are a silent auction staple, mainly because bundling multiple smaller items together increases their combined value in participants' eyes. Design each of your baskets around a theme, and make sure to package them in a visually appealing way before displaying them on the table or photographing them for your online auction catalog.
Community spotlight items. Local businesses and organizations are often very willing to provide charity fundraiser items to give back to the community they also rely on. In addition to physical goods, you might choose to auction off experiences from your local partners, such as an exercise class pass from a nearby gym or a membership at one of your city's museums.
Unique pop-culture goods and experiences. Besides supporting a good cause, one of the reasons people participate in auctions is to win items that would otherwise be difficult to find, and many of these are related to popular culture. Signed memorabilia from a professional sports team, front-row tickets to a highly anticipated concert, or behind-the-scenes tours of film sets can generate high bids from fans among your supporter base.
Vacation packages.

Travel-related items tend to be

best-sellers in charity auctions

because of their broad appeal and uniqueness. Survey some of your longtime supporters to ask about their vacation preferences and dream destinations, then use their input to select travel experiences that they'll be excited to bid on for your auction.
Of the different types of auction items, vacation packages are often the most challenging to secure. They aren't often donated, and traditional travel companies may not offer a nonprofit discount or refund your organization if the vacation doesn't sell at your auction. Fortunately, this is where consignment travel providers like Winspire come in.
Explore Auction Item Procurement With Winspire
Winspire curates and sells bucket-list travel packages—known as Experiences—specifically for nonprofit fundraisers like auctions and raffles. You can use any Winspire Experience in your organization's auction risk free, since you only pay for what you sell at your event.
Your nonprofit can get started with Winspire in four easy steps:

Select the Experiences you want.

If you have any questions about which of our

unique vacation packages

to choose, our Event Fundraising Specialists are happy to help.
Promote them to your supporters.

Winspire provides photos and descriptions of each Experience that you can include in your marketing materials to make promotion easy (more on this to come!).
Offer them at your event.

Once bidding closes, every dollar you raise above the Nonprofit Cost (list price) goes directly toward your mission.
Winners redeem their packages.

After the auction, all you have to do is provide vouchers to your winning bidders, who will

book their travels through Winspire

with no additional work required on your nonprofit's end.
Organizations across the United States and Canada have used Winspire's Experiences to boost their auction fundraising efforts. Since Winspire was founded in 2008, we've helped nonprofits raise more than $62 million for their causes!
7. Market Your Fundraiser
In many ways, marketing an auction is similar to promoting other fundraising events or campaigns. It's still important to consistently use your nonprofit's branding to create a professional, recognizable look across your communications. Additionally, leveraging multiple marketing channels creates more touchpoints for potential participants to find out about your auction and register for it.
For the widest reach, promote your auction using the following communication tools:
Your organization's website.

Add your auction to your calendar of upcoming events as soon as you finalize the date. As the event gets closer, design a landing page that provides additional details and includes the link to your signup form.
Email marketing.

If your nonprofit sends out a monthly or quarterly newsletter, include sections about your auction in several issues leading up to the event in addition to creating separate email blasts focused on the auction.
Social media.

Post about your auction early and often on all of your organization's social media accounts, such as Facebook, Instagram, LinkedIn, and TikTok. Include a link to your signup form in the post caption or in your profile depending on the platform.
Direct mail.

If you're trying to reach an older demographic or want to individually invite major donors to your event, direct mail will be your best bet. Consider including both a tear-off RSVP card with a prepaid return envelope

and

a QR code to your online signup form to give recipients a choice about how to register.
One thing that makes auction fundraiser marketing unique is that your items should be the star of the show. Include photos of your most appealing prizes across all channels, and if you're hosting a live auction, consider releasing your auction catalog in advance. This way, participants will arrive at your event excited to bid!
8. Host the Auction Fundraiser
The day of your auction is when all of your hard work pays off. However, there are still a few things you'll need to do to make sure the event runs smoothly:
Arrive at the venue early to ensure everything is ready to go, or log into your fundraising software well before the auction to check that all features are working.
Meet with your event team and volunteers to confirm that everyone understands their responsibilities.
Welcome participants via a speech or livestream to set the tone for the event.
Make sure the bidding starts and ends on time and that all winning bidders claim their prizes afterward.
For in-person or hybrid auctions, you should also spend some time mingling with participants, whether that's during a period of socialization before the live auction starts or as they're browsing your silent auction items. Doing so helps humanize your organization and deepens your relationships with individual supporters.
9. Follow up With Event Participants
Once your auction ends, your work isn't quite finished. To continue building relationships with participants, follow up with them within 48 hours of the event. Share your final fundraising total, provide examples of how you plan to use that revenue to further your mission, and express your gratitude for their support.
Don't forget to also thank your volunteers and sponsors for making your auction possible! In addition to a thank-you letter, consider sending your volunteers some of your nonprofit's branded merchandise as an extra token of appreciation for their time. For sponsors, a handwritten note, phone call, or small gift shows that you value their partnership more than an email would.
10. Evaluate Your Fundraising Success
Finally, look back at the data you collected during your auction. In addition to your fundraising total, examine your organization's: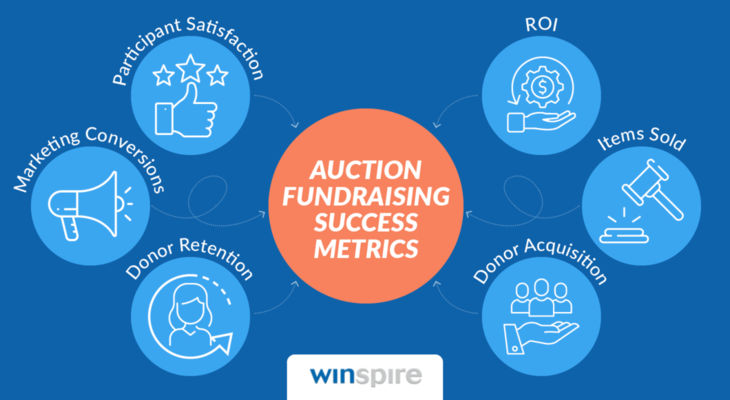 Return on investment (ROI), or the amount of revenue raised per dollar spent up front.
Item sale metrics, such as the total percentage of items sold and the number of prizes that sold at or above their fair market value.
Donor acquisition and retention rates, which tell you how many first-time supporters attended your auction and how many participants returned from one event to the next.
Marketing conversions, referring to registrations through each promotion channel.
Participant satisfaction—consider sending out a survey after the event asking supporters what they enjoyed about your auction and where they see room for improvement.
These metrics will help you determine whether you achieved the goals you set before your auction. Additionally, they can inform your planning process for future auctions.
How to Organize a Fundraiser Auction: The Bottom Line
Above all else, the key to successfully organizing a fundraiser auction for your nonprofit is to start early. As soon as you finish following up and reviewing your data from this year's auction, it'll be time to start planning for next year!
Adapt the steps above to align with your organization's resources and capabilities, and don't hesitate to contact experts like Winspire's Event Fundraising Specialists with any questions or concerns. Happy fundraising!
For more information on planning auction fundraising events, check out these resources: