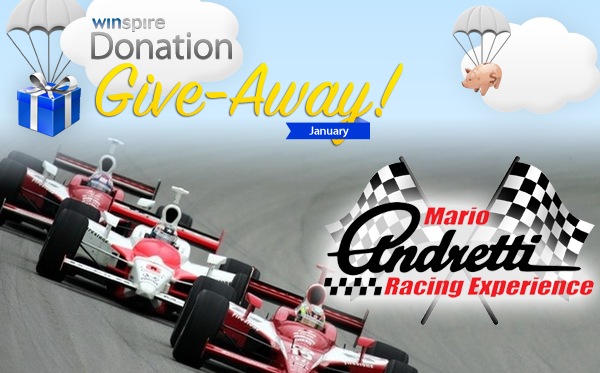 We are happy to announce the new Donation Give-Away for January: Indy-Style Open-wheel Racing experience for (1) at your choice of participating locations. Have the need for speed? Feeling adventurous? The Mario Andretti Racing School Experience offers your party of (1) an unforgettable and thrilling racing experience. Mario Andretti Racing School Experience, "The World's Fastest Driving Experience" puts you behind the wheel of a full sized, Indy-style race car. If driving these cars weren't thrilling enough, add the fact that you'll be taking laps on the world's premiere superspeedways.
Pass this article along to all your co-workers and friends who support your organization asking them to like us on Facebook or follow us on Twitter to greatly increase your chances of winning!
Your hands are on the wheel, white knuckled all the way for two thrilling 8-minute sessions with top speeds reaching up to 160 mph. Following the checkered flag on your first session, you'll get feedback from an instructor on pit road, and then head back on the race track for session two; working on going faster.
The winner of the monthly Donation Give-Away gets to choose an organization or fundraiser where the featured Winspire experience can be used to raise money. To be eligible for our monthly Donation Give-Away, you must Like Us on Facebook or Follow Us on Twitter. If you do both, you double your chances of winning.
Each month we will select at random from all online followers. There is no limit to the number of people from your Non-Profit who can enter, so send this along to your staff and get as many people to participate as possible! Questions? Email Us.