With more people packing their bags and looking for adventure, it's no surprise travel is one of the most popular and best selling charity auction items.
Most people who attend charity fundraising events have a substantial travel budget, or money they set aside specifically for leisure travel. In fact, we've surveyed more than 1,000 winning bidders and found 83% budget at least $5,000 each year for vacation travel.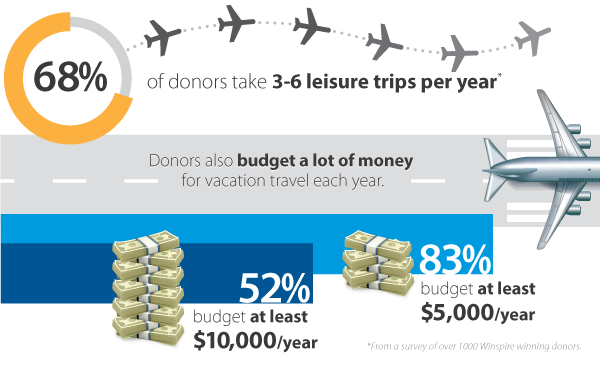 The vast majority of your charity event patrons already have money earmarked for travel. Are you giving them the chance to spend some of it at your event?
By offering travel, auction attendees can fill two needs with one deed: They can spend their travel budget on an incredible Experience while supporting a cause they believe in. And accessing those travel budgets could be the catalyst your event needs to reach new heights.
Read on for a few reasons travel budgets are a boon to your bottom line, plus 4 top summer travel destinations (and Winspire bestsellers!) to add to your upcoming auction.
Create Buzz
Some basic travel components, like hotel stays and airlines miles, can be donated. But it's difficult and time-consuming to coordinate the type of travel packages that "wow" donors and get high bids: trips with airfare, deluxe accommodations and Experiences worth talking about.
That's why, in addition to what you're able to get donated, you may want to consider adding experiential travel to your silent or live auction. Winspire can provide those to you at no-risk.
We research where people like to travel and what sporting events or experiences are on peoples' bucket lists. We also make sure blackout dates are kept to a minimum - winning bidders don't like to be told when they can and can't travel. Only if a trip or experience passes our rigid internal standards will you see it listed on our website.
These are the kinds of trips will "wow" your organization's patrons.
Save Time
Working or volunteering for a nonprofit fundraising event means there's often not enough hours in the day to handle what needs to get done. Fact is, trying to procure and coordinate buzzworthy trips with unique experiences for your charity auction would become a full-time job in itself. Many charities have found that partnering with a travel provider allows them to offer travel at their event, capturing portions of travel budgets to which they wouldn't otherwise have access.
White Glove Service
We have one chance to make a lasting impression with you and your patrons. Thus, we promise to exceed expectations and over deliver. We take great care to build solid, impressive travel package, then offer a dedicated travel concierge as your winning bidder's personal travel agent throughout the process.
We believe your donors deserve white glove service every step of the way.
By doing our job right, you are able to use these Experiences in your fundraising event to raise significant money. When your donors are satisfied with their trip, they'll look forward to reporting back on their experience and see what trips you offer next year.
Ability to Sell Multiples
Being able to sell each of these trips to multiple bidders at your event is a big reason why travel budgets are so impactful to your bottom line. Here's how...
Example: A Live Auction
Let's say you've reserved an Ireland Adventure package from Winspire. The Nonprofit cost for this trip is around $3200, so you might set the minimum opening bid at $3900 (we recommmend a minimum bid of at least 20% over cost).
Scenario 1: No one bids. No worries. You aren't going to buy this trip from Winspire. No money changes hands.
Scenario 2: One person bids at the minimum level. Sold! You collect payment from the winning bidder for $3900. When you are back in the office on Monday, call your Winspire Event Consultant and let him or her know you sold a trip to Ireland. After your purchase, your organization instantly makes $700!
Scenario 3: Several people are bidding on this package. The auctioneer sees the interest and the excitement in the room builds. Two bidders – or maybe three – are engaged in a spirited "bidding war". Your auctioneer stops the bidding at $4400 and offers it to them all at the last bid amount, let's say at $4200. Each of the bidders can buy it for that amount. Now instead of making a $1,000 profit, you've just multiplied that two or three times and made thousands of dollars.
Example: A Silent Auction
In a silent auction, selling multiples is even easier: Just add a few "Buy Now" or walkaway bid spaces to the bid sheet. Get professional, easily customizable and 100% FREE bid sheet templates that include "Buy Now" prices.
Expert Consultation
This is an often overlooked but vital component to an auction's success; the difference between a successful and unsuccessful event is expertise.
Wondering what kinds of trips and experiences the attendees at your event will be interested in? That's where your Winspire Fundraising Specialist comes in. With years of experience, they have seen what works for other Nonprofits in the area with similar patrons. Together, you can discuss the demographics of your guests and come up with a portfolio of 5 to 10 packages to offer at your event, with varying price points and red-hot destinations.
Since almost everyone in the room will be going on vacation anyway, why not tap into your donors' vacation budget and turn their trip into profit for your organization?
Click below to check out our catalog of over 200 unique travel packages designed to help you tap into donor travel budgets at your next event.