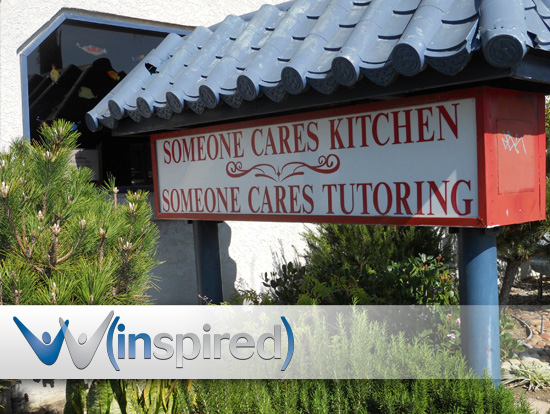 Several times a year, we roll up our sleeves and head out of the office to give back to the community where we live and work. This week, Winspire spent an afternoon working alongside a group of amazing staff and volunteers at Someone Cares Soup Kitchen in Costa Mesa, a city nestled between Newport Beach and Irvine in Southern California. This organization's story and the good deeds they are doing are truly amazing and inspiring.
We were greeted by Executive Shannon Santos, who was so warm and welcoming. We could feel her passion and her love for the soup kitchen the minute we walked in the door. Shannon is the granddaughter of the soup kitchen's founder, Merle Hatleberg. In 1986, Merle was working as a site director for an Orange County seniors program. Each day, Merle had a number of hungry people coming to the door of her workplace. They were hungry but didn't qualify as seniors for feeding. Many of these "people" were school-aged children. She was usually able to slip them some food, but there was an unmet need that was deeply troubling to her.
More about Someone Cares Soup Kitchen
Someone Cares Soup Kitchen provides meals to 300 people each and every day of the week. The Someone Cares Tutoring Program operates Monday through Thursday from 2:30 p.m. - 6:00 p.m. They currently serve 45 children, and each child receives 4 hours of individual instruction in the following areas:
Tutoring in reading, spelling, language, math, science and technology for three hours after school.
Professional tutors at 5:1 ratio students/tutors.
Assistance with understanding and keeping up with homework (as so many of the children's parents do not speak English, they cannot assist their children with their homework).
Access to and training on computers and computer software that fosters academic skills and technical literacy.
Children are served either a meal or a healthy snack prior to being tutored and a take home snack for the evening.
Drawing on her own meager funds, she bought a large pot and made her first .pot of soup. on June 15, 1986. That first day, Merle served about 30 people and the Someone Cares Soup Kitchen was born. From 1986 until 1997, the Soup Kitchen served its meals – setting up in local churches or the community center. In 1997, with the help of many local businesses and fundraisers, the Soup Kitchen was able to purchase a building that was formerly a Chinese restaurant.
When Merle passed a few years ago, Shannon took over as Executive Director. Along with a handful dedicated staff and over 150 active volunteers, their mission is clear: To feed a daily nutritional meal to the homeless, the unemployed, the working poor, the mentally challenged, the physically challenged, the senior citizens and most important of all – the children. We provide these meals to our guests in a friendly, non-threatening atmosphere. We believe that no one should go to bed hungry, on the street or otherwise. The Soup Kitchen provides a nutritional and tasteful meal to the less fortunate in our community. A meal that we would be proud to serve to our family at home. A well-balanced meal, made fresh daily, consisting of vegetable soup, lettuce and fruit salads, hearty and filling side dishes, breads and muffins, desert, milk and water.
During our afternoon shift, we helped serve the meal that volunteers and staff had prepared earlier in the day. We passed out groceries donated by local businesses. Everyone received a pair of new socks and a bag of toiletries. "This is an amazingly well run operation. The staff members are so efficient and organized, the volunteers are friendly and helpful, and the guests we served were appreciative and thanked us for being there. It was unbelievable! And true to their mission, the atmosphere was most welcoming and warm. I am so thankful that I got to be a part of this," remarked Winspire's Director of Travel Services Aaron Tom.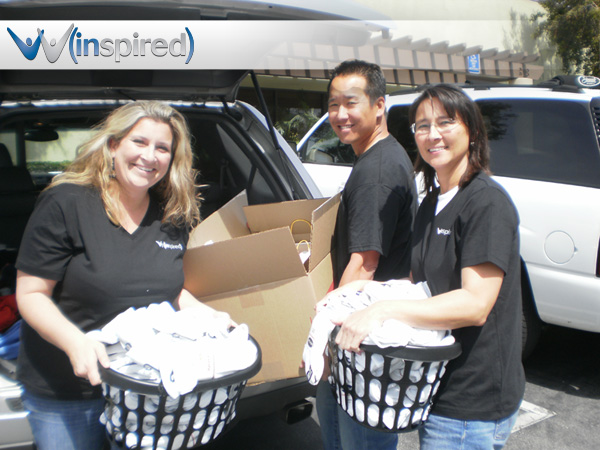 Later in the afternoon, kids from the local elementary school came in for tutoring, another service provided by this organization. What was once the waiting area of a Chinese restaurant is now lined with desks and chairs where students work with tutors for a few hours every afternoon.
We realize that there are likely similar organizations in many cities across the U.S. and Canada. Winspire salutes each and every one of you and your organizations for the great things you are doing in your communities. We are truly inspired!
---

Ian Lauth has been working to help Nonprofits maximize their fundraising revenue since early 2012 when he was hired by Winspire to develop external communications, brand expansion and product delivery processes. You can also find Ian on Google+.